Residents who have applied for flats in Tengah to enjoy green features and smart technologies in Singapore's first smart and sustainable town, while staying close to their parents, have more reasons to cheer. Come 2027, residents in Tengah Town, as well as Jurong East and Jurong West towns, can look forward to direct access to the Pan Island Expressway (PIE) eastbound (towards the city and Changi Airport) and westbound (towards Tuas), with the completion of a new interchange at the PIE and Jurong Canal Drive (JCD).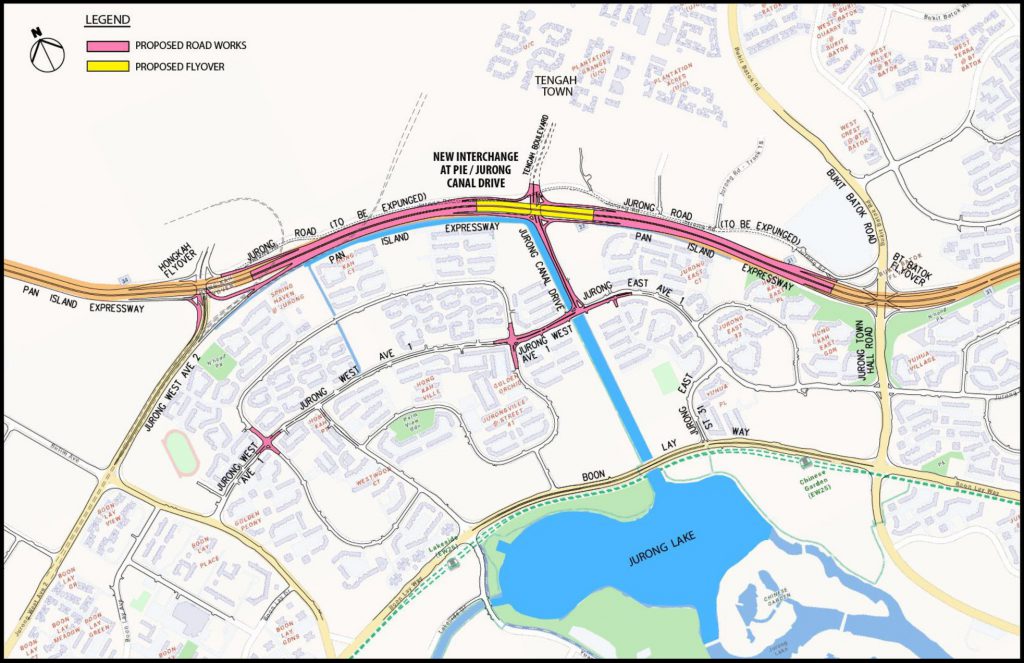 The Land Transport Authority (LTA) will be calling for a tender by the end of 2020 for the infrastructural works. These include:
Construction of a new 0.5km dual 4-lane flyover along the PIE near the exit to the JCD.
Construction of a new at-grade road junction below the new flyover, which will connect the PIE, JCD and Tengah Boulevard leading to Tengah Town.
Widening of the PIE between the Hong Kah and Bukit Batok flyovers and associated junction improvement works in the Jurong area.
In order to facilitate the construction of the new flyover and at-grade road junction, a 1.5km stretch of the PIE will be shifted northwards onto a part of Jurong Road. With this, traffic running along Jurong Road will be re-routed to ply the PIE before joining Bukit Batok Road.
Mr Xie Yao Quan, MP, Jurong GRC for Jurong Central and chairman of the Jurong-Clementi Town Council, said in a Facebook post that he will work closely with LTA and other agencies to minimise inconvenience to residents over the course of construction. "The works will connect Jurong Canal Drive directly to the new Tengah Town across the PIE and connect Jurong Canal Drive to the PIE [eastbound] for direct access to the city," he says. "Together with the upcoming health hub along Jurong Canal Drive, which will feature a much larger Jurong Polyclinic and a new nursing home and care centre, we are transforming the heart of Jurong Central to serve residents even better."