In response to pandemic uncertainty, eligible Housing and Development Board flat owners will receive up to 3.5 months' rebates on their Service and Conservancy Charges (S&CC) under the household support package announced in Budget 2021. The next rebate will be offered in October 2021.
At specific points during the pandemic, the Town Council held back all action related to S&CC arrears collection. This was done to minimise the additional financial burden on residents due to the economic uncertainty.
However, the number of arrears has started to climb in recent months. We have also received feedback from residents that they are unaware of the amount owed. We held back the monthly reminder letters since April 2020 as we understand the possible hardship faced by our residents due to the pandemic. However, we will resume the sending of the monthly reminder letters as the number of arrears has started to climb in recent months. To manage the day-to-day operation of the HDB residential and commercial common properties, we will need to ensure that there are sufficient operational funds.
Residents can seek help on S&CC matters
If your family needs help with paying the S&CC, there are various schemes available, such as ComCare and Employment Assistance. We also encourage residents to see their respective Members of Parliament in Jurong GRC, Yuhua and Bukit Batok SMC at their Meet-the-People Sessions(MPS) for assistance. We also offer instalment plans for residents who have difficulties paying upfront.
Enhanced Covid-19 support for stallholders
As hawkers bore the brunt of dine-in restrictions that were imposed during the Heightened Alert period amid a spike in Covid-19 infections, followed by a general slowdown among people dining out, the National Environment Agency (NEA) waived hawker stall rentals for May and June. This helped 6,000 cooked food stallholders at hawker centres managed by NEA or NEA-appointed operators. An additional one-month rental waiver was also announced on July 16 as part of the enhanced Covid-19 support scheme.
Under this, stallholders also enjoyed a three-month subsidy for table-cleaning and centralised dishwashing services. To assist hawkers in going digital, the SG Together Alliance for Action was formed to offer education and support to help them use online food delivery platforms.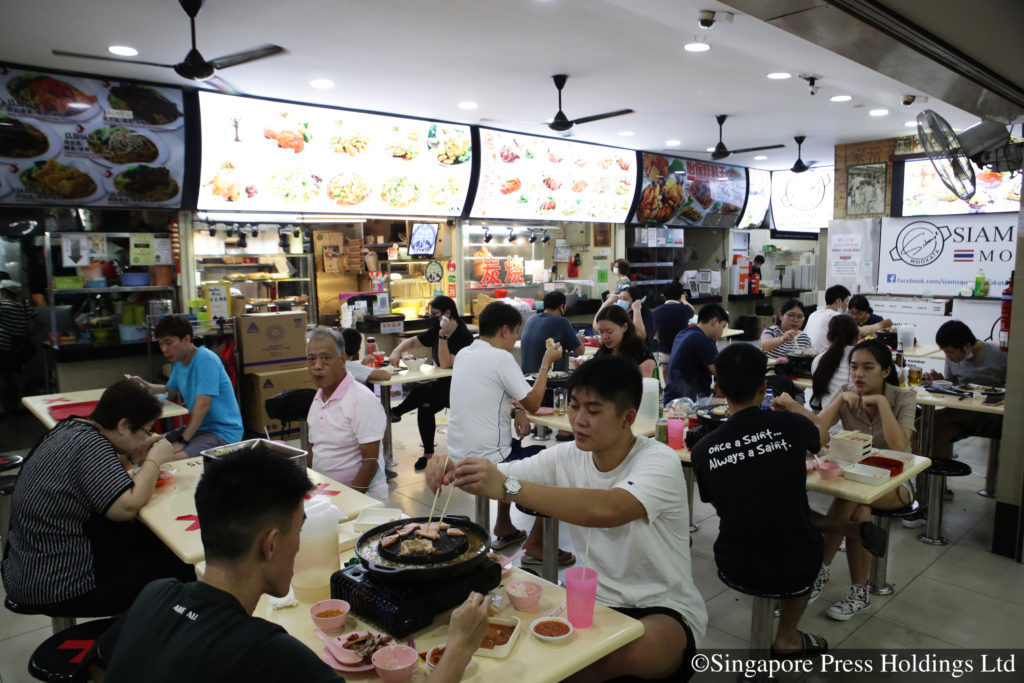 Under the Market and Hawker Centre Fund, which was announced on July 23, each stallholder will also receive a one-time cash assistance of $500. The amount will be directly credited to their bank account or sent via cheque to their NRIC addresses.
Stallholders facing financial difficulties can also apply for financial support under the Covid-19 Recovery Grant. It provides cash assistance of up to $500 per month for up to three months. The application must be made by the end of December 2021.
In addition, hawker centres that were identified as Covid-19 clusters, including Yuhua 254 and 347, and Clementi 448 Market, also had their S&CC waived when their premises were required to close to break the chain of transmission.
During the Heightened Alert Measures, the Town Council also waived temporary occupational licence fees for June at selected hawker centres in Jurong East, Jurong West and Clementi.
The monthly S&CC goes towards the maintenance and upkeep of the common property within our town. These include:
Essential maintenance and repairs of lifts, water pumps, switch rooms and lightings
Lift rescue services
Conservancy and cleaning works
Landscaping and horticultural works
Preventive and cyclical maintenance works, including repainting and re-roofing
Replacement of water pipes and automatic refuse-chute-flushing systems
For more information or assistance, do contact us.