Jurong-Clementi residents will now find a familiar sight from public transportation in their estates. As part of a pivotal effort to integrate sustainable living into community spaces, an array of decommissioned MRT seats, handrails, intercom covers and LED light covers will be repurposed as community amenities. This upcycling initiative sets an innovation-oriented precedent in the pursuit of making Singapore a green and sustainable city-state.
This project is part of the Action for Green Towns programme by all 15 Town Councils managed by the People's Action Party, and is expected to upcycle up to 14,400kg of materials that would have otherwise made their way to Pulau Semakau, Singapore's only landfill.
Inspiration behind the initiative
JRTC's current sustainability framework largely focuses on three green pillars: reuse, reduce and recycle. The Town Council constantly looks for ways to work on these core facets to align with Singapore's Green Plan 2030, and this upcycling initiative is one such way to put its sustainability efforts into tangible outcomes.
The JRTC team and residents believe that repurposing disused MRT parts that are still in relatively good condition as amenities for residents would enhance the neighbourhood. Most of the seats, for example, are made of fibreglass materials that can be easily cleaned and polished to make them look brand new.
In support of residents' suggestions, the seats were mounted on walls and accompanied with murals created by residents themselves. The consultative process between JRTC and residents highlights the fact that community involvement can lead to impactful ideas, and residents gain a greater sense of ownership in their neighbourhood.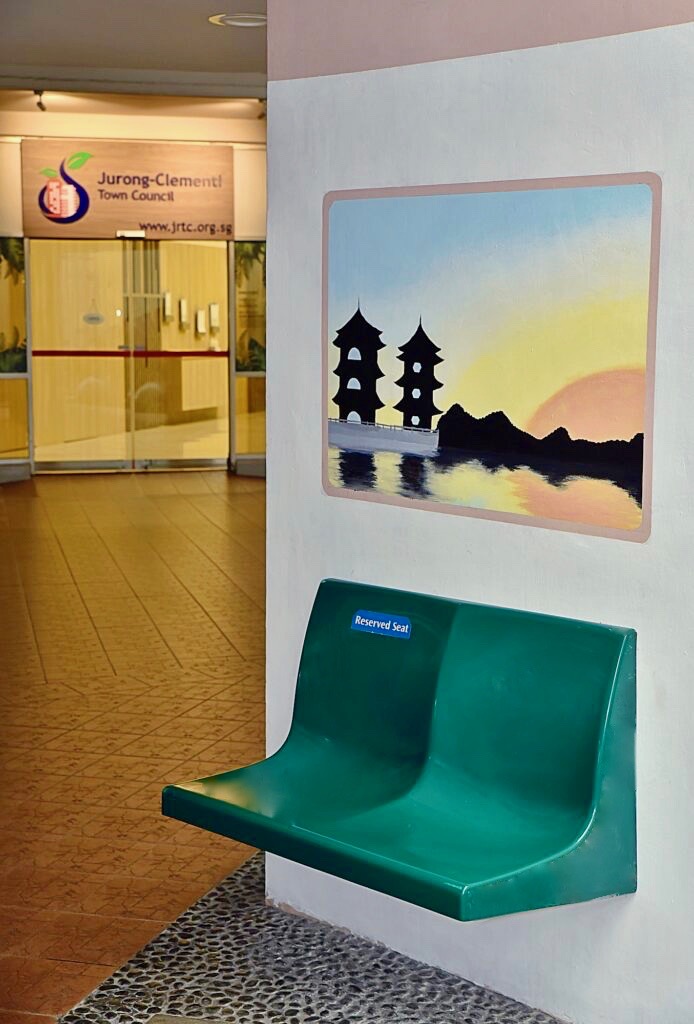 At JRTC, sustainability is a continual effort
Following the interest in these upcycled amenities, JRTC is expecting to collect a second batch of seats from SMRT in the near future, which will be distributed to the seven divisions within Jurong-Clementi. Being mindful of the environmental impact of each installation and how it enhances the quality of living for residents, the team will work with key community stakeholders on the installations and relevant artistic designs accompanying them.
The upcycling of the decommissioned MRT seats is but one of many initiatives in the pipeline for the Town Council. In the future, residents can look forward to:
A woodchipper that can turn horticulture waste into mulch, which is an eco-friendly fertiliser that can be used to enrich and insulate soil. As a result, it can reduce the carbon footprint and reliance on conventional fertilisers.
Coats of cool paint on selected repair and redecoration projects in precincts to reduce heat absorption on the external walls of HDB blocks.
The installation of solar photovoltaic panels atop more than 533 blocks of HDB flats across all seven divisions.