Back in the mid-1960s, right after independence, when providing jobs and housing were the primary concerns, Singapore's pioneer generation of leaders already held a vision to inspire Singaporeans to care for and protect the nation's environment by adopting a clean, green and sustainable lifestyle.
The annual Clean & Green Singapore (CGS) event has its origins in the "Keep Singapore Clean" campaign, which was launched in October 1968 by Singapore's Founding Father and erstwhile Prime Minister, Mr Lee Kuan Yew, to educate Singaporeans on the importance of keeping shared public spaces clean. On 4 November 1990, Mr Goh Chok Tong, then First Deputy Prime Minister, launched the first Clean and Green Week. It incorporated both the "Keep Singapore Clean" campaign and tree-planting activities. The community-based green movement has since evolved to encompass broader sustainability efforts in the city-state.
A slew of activities took place across several neighbourhoods within Jurong from November to December to highlight the importance of not only preserving nature but also living with it in harmony.
On November 28, Ms Grace Fu, Minister for Sustainability and the Environment and MP for Yuhua SMC, joined Deputy Prime Minister Mr Heng Swee Keat and Mr Desmond Lee, Minister for National Development and Minister-in-charge for Social Services Integration, in kicking off CGS 2020 with a symbolic tree-planting ceremony at the Institute of Technical Education College East. The tree planted this year was the Magnolia champaca.
They were joined by Dr Amy Khor, Senior Minister of State, Ministry of Sustainability and the Environment, and Mr Desmond Tan, Minister of State, Ministry of Home Affairs and Ministry of Sustainability and the Environment, who planted the Magnolia x alba; and Ms Low Yen Ling, Mayor of South West District, and Mr Alex Yam, Mayor of North West District, who planted the Gardenia carinata.
In conjunction with the annual event, tree planting and litter picking activities also took place at the seven zones in Yuhua (except zone 6) on November 29. Due to Covid-19, safe distancing measures were imposed for this year's CGS. "We're having physical separations this year, and each of our Yuhua zones is joining this event from different places. I hope that everybody will realise the significance of the clean and green event, and to carry on with this tradition. We want to maintain our environment to become even more beautiful, as many of us now want to move towards living with nature," said Ms Fu at the event.
She also urged Singaporeans to be more understanding and accommodating in looking at how we can coexist with wildlife without disturbing the ecosystem. "Very often, we get calls from residents asking to spray and kill centipedes. But centipedes are actually part of the ecosystem, and we cannot over-apply pesticides because this will damage the environment and make us more unhealthy," she added.
Ms Fu also shared that the Climate-Friendly Households Programme was introduced earlier this year to encourage households to be energy- and water-efficient. The programme supports 1-, 2- and 3-room Housing and Development Board households in their purchases of energy- or water-efficient essential appliances with e-vouchers. Eligible households will now be able to apply for their e-vouchers.
The CGS also took place at Jurong Spring on December 5. Six trees of the Lagerstroemia floribunda variety were planted across the six zones there. A common landscape tree in Singapore, it was chosen for its easy maintenance and can grow up to a height of 25 metres. The Jurong Spring event was spearheaded by Mr Shawn Huang Wei Zhong, Member of Parliament, Jurong GRC, who took part in the tree planting exercise alongside volunteers.
Several residents also took part in a tree hunting event on December 5 to learn more about the common species at Jurong Spring. Other fringe activities, such as a colouring contest, were also organised for children aged six and below to fill their canvas with hues and get them to learn more about our natural environment.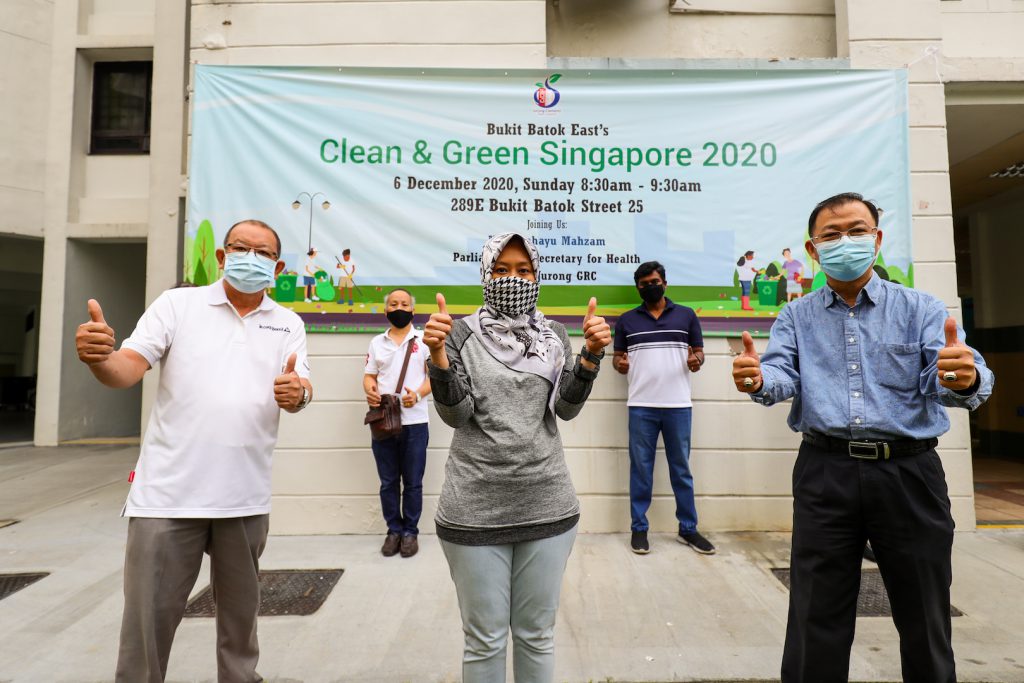 A tree planting event also took place at Block 289E Bukit Batok Street 25 on December 6. Officiated by Mdm Rahayu Mahzam, Parliamentary Secretary, Ministry of Health and Member of Parliament, Jurong GRC, the event saw volunteers and residents gathering at Nature View in Bukit Batok East to plant Malayan Crape Myrtle trees. Mdm Mahzam shared her views on the tree planting exercise in her Facebook post. "A famous Chinese proverb says: The one who plants the tree is not the one who will enjoy its shade," she wrote. "Indeed, we are benefitting from the shade of the trees planted by our forefathers, and we should continue to keep planting so that the younger generation will benefit."
She also urged more people to follow the National Parks Board's mission to restore nature back into our city through the planting of more than a million trees across Singapore over the next 10 years. Community plays a vital role in making this mass movement a success.