Singapore continues to make good progress in our national vaccination programme, with around 7.76 million doses of the Covid-19 vaccine administered as of August 4. To date, 65% of our population is fully vaccinated, while 78% have received at least the first dose of the vaccine.
The vaccination take-up rate among our seniors has also been encouraging: As of August 1, 73% of seniors aged 70 and above have completed the full vaccination while the full vaccination rate for those aged 60-69 years old reached 83%. The take-up rate for other age groups is also promising. 88% of those in the 45 to 59 category have received at least one dose of COVID-19 vaccine or booked their appointments, while the same metric for those aged 40 to 44 reached 87%. In addition, almost 83% of Singapore citizens aged 12 to 39 years, including MOE students, have received vaccinations or booked their appointments.
With a steady supply of vaccines, the minimum interval between the first and second doses will be shortened. Therefore, those who have already received their first dose (with second-dose appointments currently scheduled six to eight weeks later) can rebook and bring forward their second-dose appointments to four weeks from their first-dose appointment. They can do so by using the same personalised booking link in the SMS they received earlier.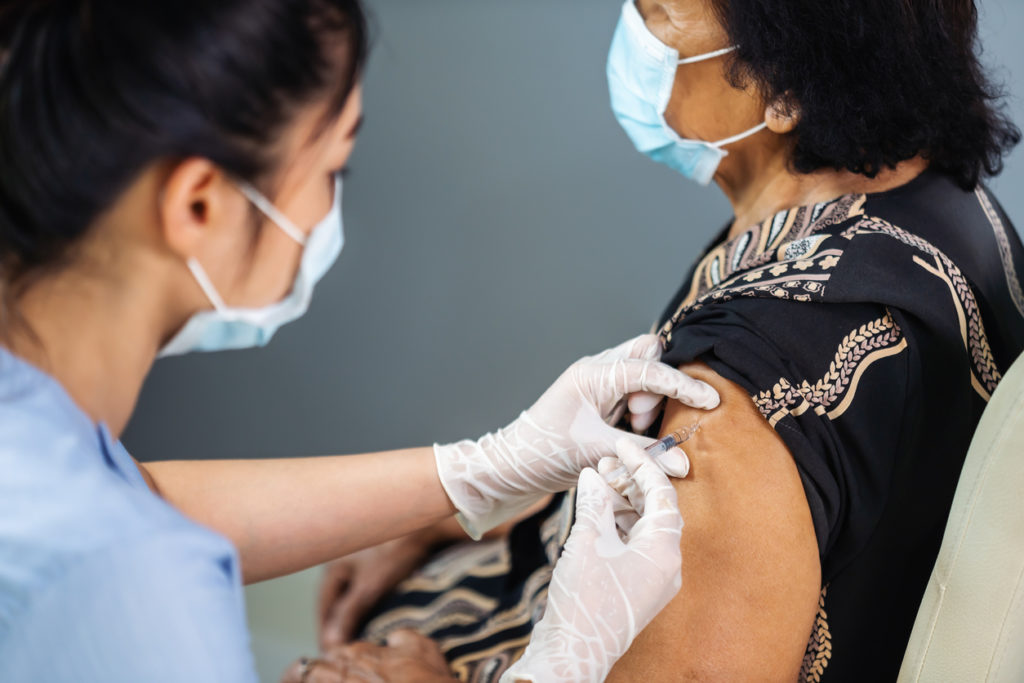 From July 2, the vaccination programme will be extended to the rest of the population, including permanent residents and long-term pass holders aged 12 to 39. You may register at vaccine.gov.sg. In addition, all Singaporeans, Permanent Residents, and Long-Term Pass holders aged 18 years old and above who have not yet come forward for their first dose will be able to walk-in to the 11 community vaccination centres offering the Moderna COVID-19 vaccine without a prior appointment. These vaccination centres are located at:
Buona Vista Community Club
Hong Kah North Community Club
Kebun Baru Community Club
Kolam Ayer Community Club
Marsiling Community Club
Potong Pasir Community Club
Punggol 21 Community Club
Radin Mas Community Club
Tampines East Community Club
Woodlands Community Club
Yew Tee Community Club
Meanwhile, it is recommended that those who have recovered from an earlier Covid-19 infection receive a single vaccine dose. Evidence has indicated that a single dose would further boost their immunity against Covid-19. Those who had an infection over six months ago will be given priority. Individuals who have recovered within the past six months are likely to still have a robust immune response.
Relaxing Phase 2 (Heightened Alert) Safe Management Measures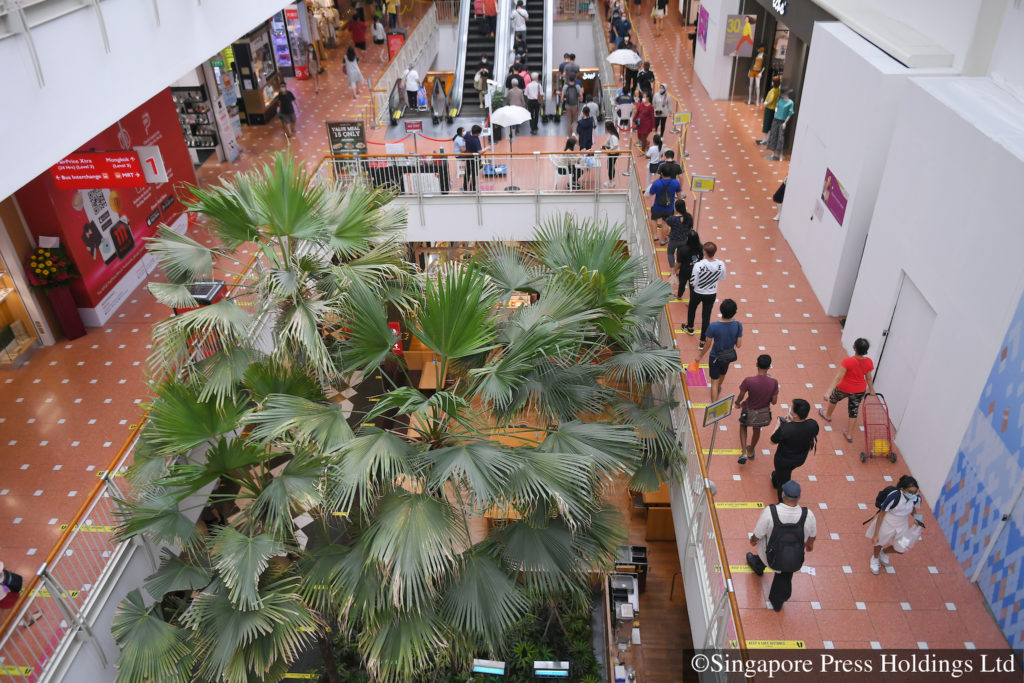 Singapore is progressively relaxing its Phase 2 (Heightened Alert) safe management measures from August 10 onwards. Here are some of the things to take note of:
Group social gatherings are capped at five persons if all are vaccinated from August 10 onwards
Dine-in will resume at all F&B outlets, including hawker centres, coffee shops and food courts from August 10 onwards for groups of five if all are vaccinated and two at hawker centres and coffee shops, regardless of vaccination status.
Households can receive a maximum of five visitors per day from August 10 onwards. The cap on visitors does not apply to grandchildren being cared for by grandparents.
Social and recreational gatherings at the workplace are not allowed. Work-related events should continue not to serve F&B.
TraceTogether check-in is mandatory at all wet markets and hawker centres.
In-person tuition and enrichment classes for those aged 18 and below is allowed. Class size is capped at 50 persons per class in groups of up to five persons.
Up to 100 people will be allowed to attend wedding receptions with pre-event testing (PET). Unvaccinated individuals are strongly discouraged from attending such events until they are fully vaccinated. Group sizes at wedding receptions will continue to be limited to up to five people per table. Guests will have to abide by strict safe management measures, including maintaining social distancing and avoiding mingling with others beyond their own table.
Worship services and marriage solemnisation will also be allowed for up to 500 attendees if all vaccinated, from August 10 onwards and 1,000 if all vaccinated from August 19 onwards. The number will be capped at 50 without pre-event testing.
Up to 50% of employees who can work from home can return to workplace.
Wedding receptions will be allowed with up to 250 attendees if all are fully vaccinated, and with groups of up to 5 attendees per table.
Strenuous indoor mask-off exercise classes or strenuous individual and group indoor sports and exercise activities will be allowed for fully vaccinated people in groups of up to five people. Outdoor mask-off strenuous activities will be capped at two people.
Indoor and outdoor mask-on exercise activities will be capped at 30 people in groups of five.
Continue to practise good hand hygiene.
Wearing masks at the workplace and public venues remain compulsory.
FREE OXIMETRES FOR ALL SINGAPORE HOUSEHOLDS
Temasek Foundation has also provided a free oximeter to every Singaporean household to monitor their blood oxygen regularly. Silent pneumonia is one of the most severe consequences of Covid-19, where seriously ill people can generally feel well despite damaged lungs and dangerously low oxygen levels.
ADDITIONAL ECONOMIC SUPPORT
Businesses in sectors that have been severely affected by tightened measures and have had to suspend most or all of their main activities will receive 60% of workers' wage under the Jobs Support Scheme – higher than the 50% that was given out when Phase 2 was first imposed in May. These include F&B businesses, gyms, fitness studios, performing arts organisations and arts education centres.
Taxi and private-hire car drivers will also get additional support from the Covid-19 Driver Relief Fund until the end of September. Currently, drivers receive S$10 a vehicle a day in July and August, and S$5 a vehicle a day in September.
Other businesses with curtailed activities will receive up to 40% – up from the previous 30%. These include the retail sector; affected personal care services; tourist attractions; licensed hotels; cruise and regional ferry operators; organisers of meetings, incentives, conferences and exhibitions; travel agents; museums; art galleries; cinema operators and other family entertainment centres.

Under the latest enhancement, eligible drivers will get an additional S$10 a vehicle a day from July 22 to August 31, and an additional S$5 a vehicle a day in September.
One of the sectors that has been badly impacted due to the mandatory restrictions is the hawkers and market stallholders. To support them during this Phase 2 period, the Government has introduced a Market and Hawker Centre Relief Fund. A one-off cash assistance of $500 will be given to individual stallholders at hawker centres managed by National Environment Agency (NEA) or NEA-appointed operators. This comes on top of the extra one month of subsidies for fees for table-cleaning and centralised dishwashing services, and one month of rental waiver for stallholders at hawker centres and markets managed by NEA or NEA-appointed operators announced earlier.
In addition, Enterprise Singapore has reintroduced the Food Delivery Booster Package to help hawkers defray the costs associated with online food delivery platforms – a channel that many hawkers have had to depend on due to the no-dining-in measures in place.