As Singapore continues to educate residents on the benefits of recycling and making recycling convenient for households, a 2021 survey conducted by NEA revealed positive findings. In the survey, three in five Singapore households reported recycling regularly.
And there are more incentives for residents to recycle more frequently as appointed public waste collection agencies implement the Cash-for-Trash initiative. It is an incentive programme where residents can bring their recyclables to the Cash-for-Trash stations and receive cash in exchange.
Within the areas under the purview of Jurong-Clementi Town Council, seven 24/7 paper recycling machines were installed in January by SGRecycle in Yuhua, Taman Jurong, Bukit Batok East, Bukit Batok, Clementi, Jurong Central and Jurong Spring. Residents can recycle non-contaminated general waste paper, old magazines, books and corrugated carton boxes. They should flatten the carton boxes before depositing them in the machines.
The SGRecycle machines are located at:
Block 254 Jurong East Street 24
Block 359 Yung An Road
Block 268 Bukit Batok East Avenue 4
Block 630 Bukit Batok Central
Block 449 Clementi Avenue 3
Block 493A Jurong West Street 41
Block 509 Jurong West Street 51
For every kilogram of waste paper deposited at these SGRecycle stations, residents are rewarded with six SGRecycle points. Users can redeem their rewards points via www.sgrecycle.com or its mobile app via the Apple App Store or Google Play Store. The minimum redemption is 1,000 points or $10 equivalent. Redeemed rewards can be received via PayNow, FAST bank transfer or EZ-Link credit vouchers.
The minimum weight of waste paper to be deposited is 100g. The paper deposits are collected monthly, and 1,628kg of paper have been recycled from January to March in the seven districts, helping to save 28 trees.
Residents can also bring paper, clean metals, clean plastics, clean glass bottles and fabrics for recycling at Alba's collection stations and get paid.
The collection timing and location are as follow:
| | | |
| --- | --- | --- |
| Location | Schedule | Operation Timing |
| Block 292 Bukit Batok East Avenue 6, 650292 | Every Saturday | 8am-12pm |
| Block 544 Jurong West St 42, 640544 | Every Saturday | 8am-12pm |
| Hard court beside Taman Jurong CC, 618495 | Every Sunday | 8am-12pm |
| Block 484 Jurong West Street 41, 640484 | Every Sunday | 8am-12pm |
| Block 456 Jurong West Street 41, 640456 | Every Sunday | 8am-12pm |
| Block 346 Jurong East Street 31 (opposite the sports complex), 600346 | Every Sunday | 8am-12pm |
| Block 288A Jurong East Street 21, 601288 | Every Sunday | 8am-12pm |
| Block 251 Jurong East Street 24 (in front), 600251 | Every Sunday | 8am-12pm |
| Block 270 Toh Guan Road, 600270 | Every Sunday | 8am-12pm |
| Block 210 Bukit Batok Street 21, 650210 | Every Sunday | 8am-12pm |
| Block 154A Bukit Batok West Avenue 8, 651154 | Every Sunday | 8am-12pm |
| Block 267 Bukit Batok East Avenue 4, 640267 | Every Sunday | 8am-12pm |
| Block 449 Jurong West Street 42, 640449 | Every Sunday | 8am-12pm |
Meanwhile, residents can also deposit used plastic beverage bottles and metal cans at the 24/7 reverse vending machine operated by Alba at Block 254 Jurong Street 24. A couple of important things to keep in mind while recycling: Make sure the bottles and cans are empty and rinsed, and that the barcodes are unstained and readable.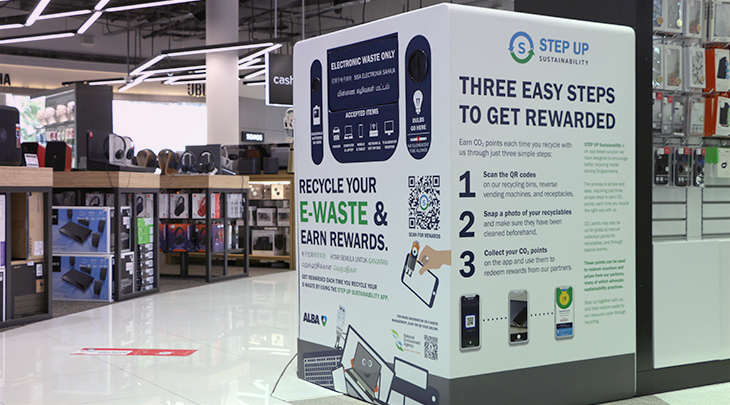 Through the Alba e-waste recycling programme, which started in mid-2021, residents can also recycle their electronic items such as computers, mobile phones, printers, e-mobility devices, air-conditioners, TVs and desktop monitors. Look out for its quarterly e-waste collection drives organised in conjunction with town councils throughout Singapore.
Users who recycle through Alba e-waste's collection channels will be rewarded with points on the Alba Step Up app. Residents can use these points to exchange for discounts and special deals with Alba's partners.