Action for Green Town (AGT) is an initiative launched by the People's Action Party (PAP) to bolster sustainable practices in all of the 15 town councils managed by it, including the Jurong-Clementi Town Council (JRTC). Launched last year, the initiative is aligned with Singapore's Green Plan 2030.
AGT aims to foster collaboration between town councils, residents as well as sustainability experts. It champions and works towards making every PAP-managed town zero-waste, energy-efficient and greener by 2025. Each AGT will have a Sustainability Champion among its elected members joining the AGT taskforce. In JRTC, Mr Shawn Huang Wei Zhong is the Sustainability Champion who will lead the AGT initiatives in consultation with the residents, non-profit organisations and other stakeholders.
The sustainability initiatives will benefit the residents, businesses and other stakeholders of the Jurong-Clementi neighbourhood by ensuring enhanced greenery, better and effective service operations, as well as reduced waste.
Some of the initiatives, such as greening the rooftops of multi-storey carparks, will be done in conjunction with stakeholders such as the Housing and Development Board (HDB). While the AGT task force will propose recommendations, town councils will carefully study these recommendations to assess how they can be implemented in the estates managed by them.
Residents will play a key role in this consultative process, from providing feedback to coming up with ideas and implementing them.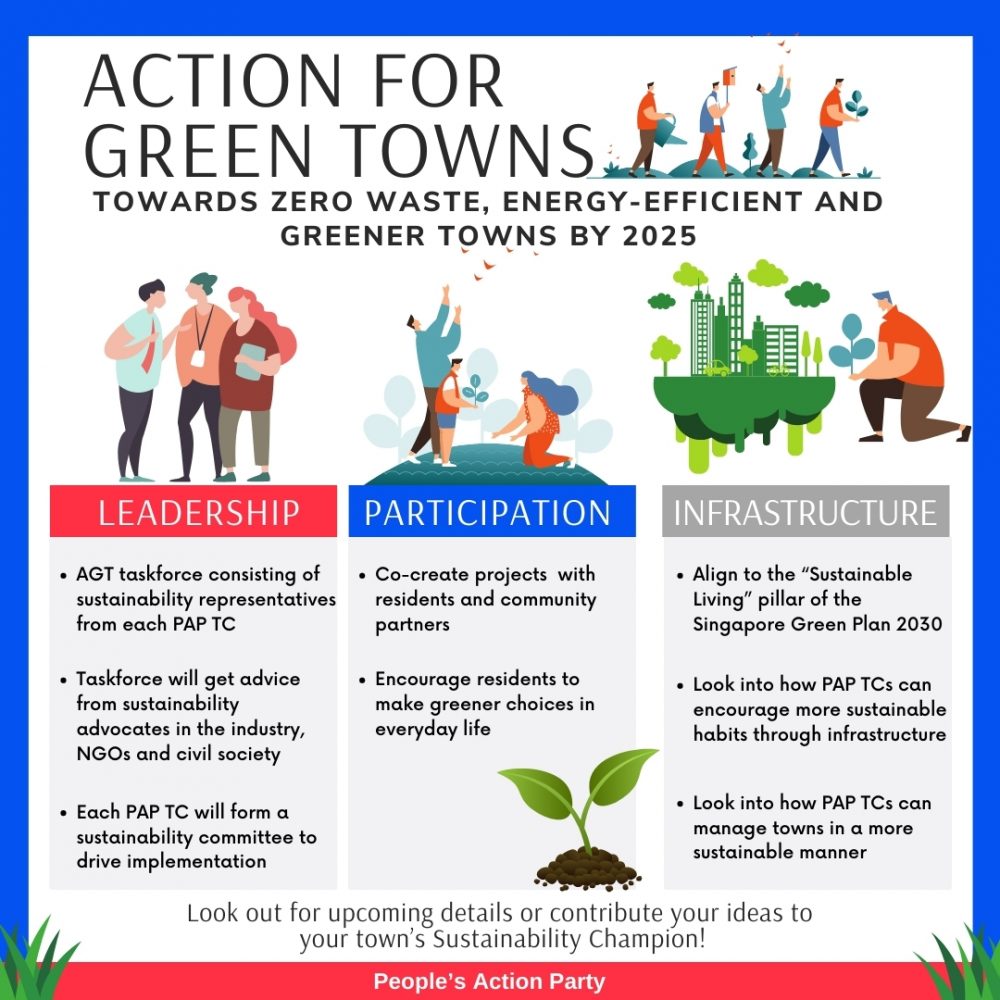 For example, the zero-waste initiative will see, an increased number of blue bins placed around the estate to make recycling more accessible to the residents. The number of e-waste collection points has also been increased so that residents can dispose of their electronic waste in a safe and responsible manner. This is in addition to the energy-efficient practices already in place for operational processes such as the use of hydraulic machines for waste collection, water-saving jets for cleaning and sustainable transport initiatives such as bicycle racks.
A greener environment is one of the tangible outcomes of the AGT. As such, residents can expect to see more community gardens, parks and trees in their surroundings.
JRTC has been continuously working towards achieving energy efficiency in its operations. One of the examples of this environment-friendly practice is the transition to LED lighting in the common areas and the installation of solar panels on the rooftops of the HDB blocks.
The wet and organic waste generated in homes, hawker centres and wet markets can be utilised for producing compost, which can be used to boost the health of plants in community gardens.
More importantly, AGT will engage the residents to focus on co-creating community-driven sustainability projects.