The recent launch of Singapore Green Plan 2030 to address issues related to climate change, sustainable living and development has provided a new impetus to impactful sustainability projects throughout the nation. The new blueprint aims to transform all housing estates into better living environments for every resident.
As part of this nationwide programme, 15 town councils will collaborate under the Action for Green Towns initiative to enhance sustainability practices within their communities. The initiative will see residents, thought leaders in the sustainability domains, town management stakeholders and service providers partnering to make every PAP-managed town have zero waste, and be energy-efficient and greener by 2025.
Each PAP town council will have a sustainability champion, and Mr Shaun Huang, MP of Jurong GRC (Jurong Spring), will represent Jurong-Clementi Town Council (JRTC). He will work with the Sustainability Committee to lead and facilitate efforts with the stakeholders in the Jurong-Clementi neighbourhood and engage its residents throughout the entire process, from feedback and ideation to implementation.
The JRTC sustainability initiatives will be aligned with the "sustainability living" pillar of Singapore Green Plan 2030. These include:
Strengthening green efforts at school
At least 20% of schools to be carbon neutral by 2030
Green commutes
Triple cycling path networks from 460km in 2020 to 1,320km by 2030
Reduce waste and consumption
Reduce household water consumption to 130 litres per capita per day
JRTC has been at the forefront of sustainability initiatives. We have implemented sustainable recycling initiatives, including cash for trash and the installation of reverse vending machines, where people can return empty beverage containers like bottles and cans for recycling.
In a National Environment Agency (NEA) study in 2018, it was found that Singapore generates about 60,000 tonnes of e-waste annually. That is equivalent to each person discarding 73 mobile phones. Out of this amount, only 6% is recycled.
JRTC is working with e-waste management firm Alba E-Waste, the NEA-appointed producer responsibility scheme (PRS) operator, to install e-bins to collect electronic waste such as batteries, lamps, computers and e-mobility equipment. The e-waste will be channelled through Alba E-Waste's sorting and logistics hub for weighing and categorisation, before being sent to licensed e-waste recyclers for recycling. Subsequently, raw materials are then recovered and put back into production, thus creating a circular value chain and enabling a minimal environmental impact.
TYPES OF E-BINS
ICT, Batteries and Bulbs Bin (3-in-1): The accepted e-waste here includes batteries (AA, AAA, AAAA, D, C, 9-volt, button cell only) – circumference less than 50mm; light bulbs – circumference less than 100mm; equipment such as printers, power banks, computers and laptops; mobile phones, tablets, network and set-top boxes; TVs and desktop monitors (these devices must be able to fit through a 500mm x 250mm slot); and ICT peripherals such as mouse, keyboards, computer cables, mobile phone wires, headsets, headphones, earpieces, hard disks/external and hard drives/ thumb drives.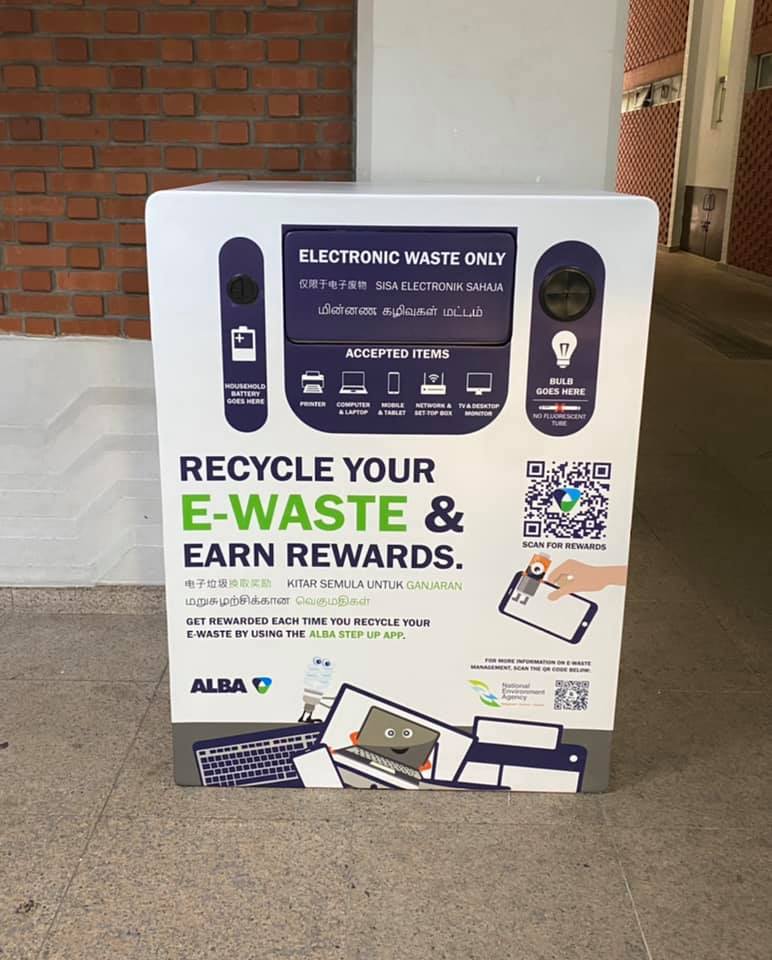 Batteries and Bulbs Bin: The only e-waste accepted includes bulbs and batteries (AA, AAA, AAAA, D, C, 9-volt, and button cells only).
Batteries Bin: Limited to batteries (AA, AAA, AAAA, D, C, 9-volt, and button cell) only.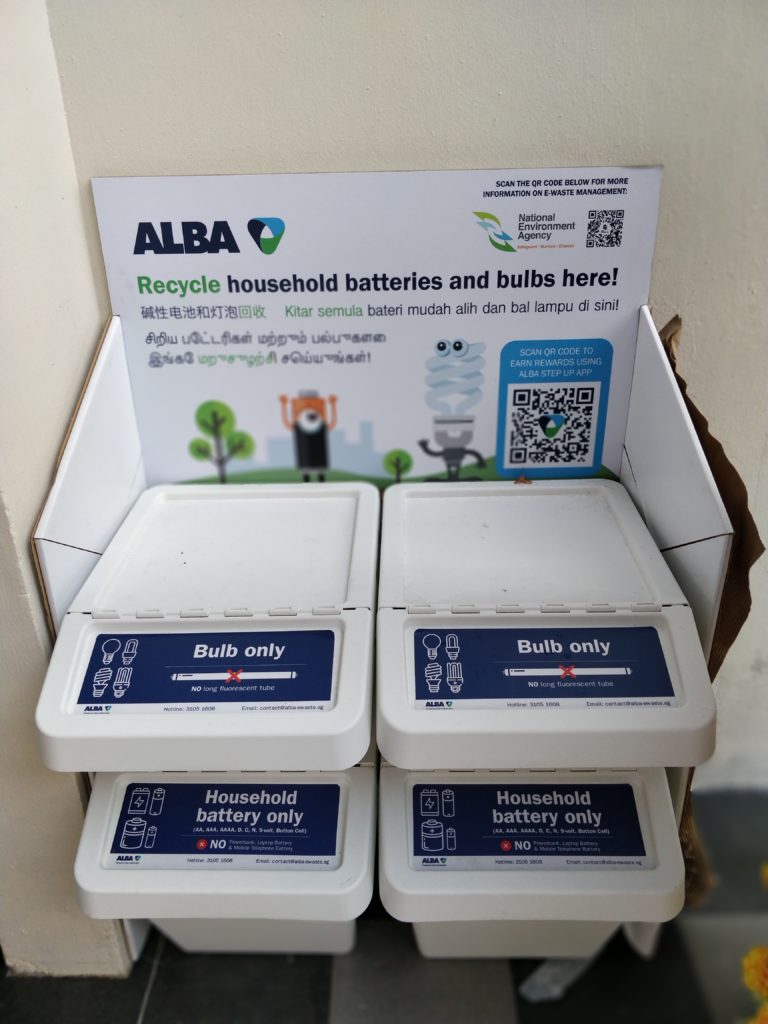 The e-bins are available at several locations throughout Jurong-Clementi. To find out the location nearest to you, please visit Alba E-Waste collection points.
Some other ways that the PRS operator will be working with the residents and the town council are by organising drop-off collection events; doorstep collection; offering retailer take-back scheme; bulky removal service at Housing and Development Board (HDB) blocks and condominiums; and holding cash-for-trash programmes.
A PUSH TOWARDS SUSTAINABLE LIVING
As part of its sustainable transportation initiatives, JRTC is working with the relevant stakeholders to develop:
A comprehensive network of cycling paths to form key transportation hubs in our town
Walk-to-ride – covered linkways
Bicycle racks
Integrated transportation hub
More efficient public transportation services
More electric vehicles and charging points
The JRTC town council has planted more edible greens in the community and allotment gardens to promote sustainable local-food production practices. Following a successful pilot at an Ang Mo Kio hawker centre, JRTC is exploring the use of food waste digesters at the hawker centres in our town. The machines will decompose the food waste into water, which is then reused by the device for self-cleaning or to clean the bin centre.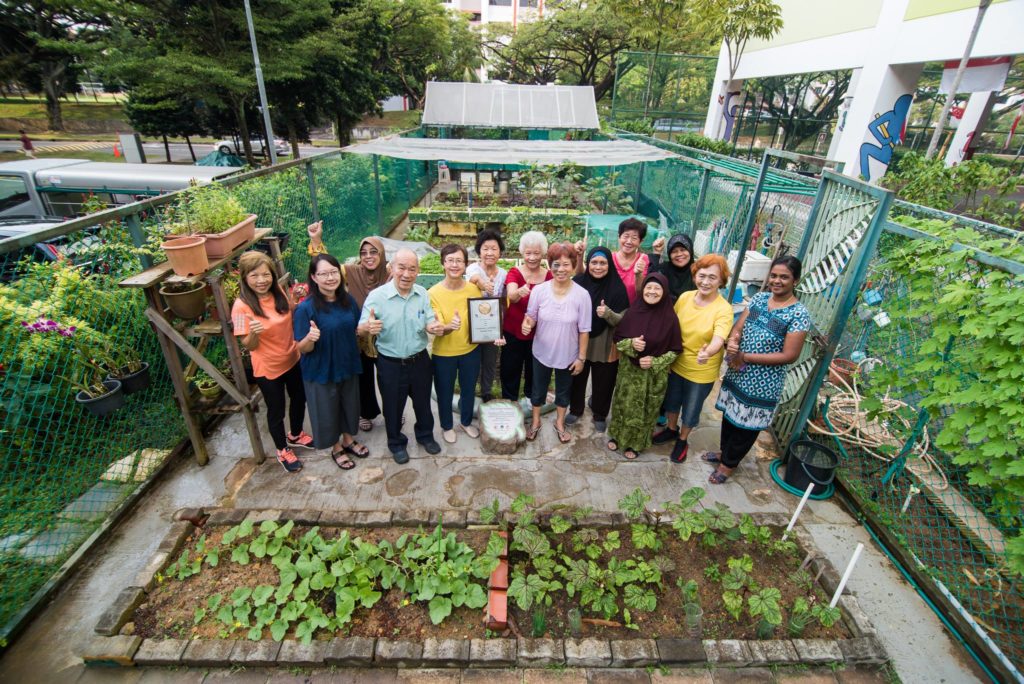 To increase green cover in the neighbourhood and also enable residents to engage in meaningful activities, 45 community gardens have been created in Jurong-Clementi town. JRTC's first allotment garden is at the open space in front of Block 521 Jurong West Street 52 and another at Block 153 Yung Ho Road.
Disclaimer: All group activity photos were taken before the Covid-19 safe management measures were implemented.
An Allotment Gardening Scheme that allows residents to lease plots for their own gardening activities has also been launched in the estate. Following an encouraging response from the community, more allotment gardens will be rolled out for the residents to further their passion, hone their skills and grow their own greens – an action plan that aligns with Singapore's emphasis on boosting the production of locally grown food. Some of the proposed locations for new allotment gardens are at Block 105 Jurong East Street 13 and Block 233 Jurong East Street 24.
LED LIGHTING LEADS THE WAY
To date, 95% of the lamps in JRTC have been converted to energy-saving LED lights with dimming functions. The town council will be moving towards smart lighting in the coming years. JRTC has achieved significant energy savings from the LED lighting project since it adopted LED lighting in Bukit Batok, Bukit Batok East, Clementi, Jurong Central, Jurong Spring, Taman Jurong and Yuhua in 2010. In 2019, former LED lights were replaced with more energy-efficient ones. For instance, the corridor lights in these divisions are installed with a built-in timer to adjust the brightness according to human traffic. In addition, the LED lights at staircases are also fitted with motion sensors to detect human traffic and keep energy costs to a minimum.
SOLAR PANEL PROJECTS
To meet its goal of powering about 135,000 four-room flats with clean energy by 2030, HDB has been building solar panels across blocks island-wide.
Bukit Batok
Solar panels were installed in 46 blocks.
Bukit Batok East
Solar panels were installed in 34 blocks.
Clementi
Solar panels were installed in 10 blocks.
Jurong Central
Solar panels were installed in 40 blocks.
Jurong Spring
Solar panels were installed in 30 blocks.
Taman Jurong
Solar panels were installed in 27 blocks.
Yuhua
Solar panels in 41 blocks have been installed to power the common areas.
Do you have any environmentally friendly idea to share with us and fellow residents? Email us your suggestion at green@jrtc.org.sg and make a positive impact on the community.
Note: All the gardening images were taken prior to the implementation of safe management measures.